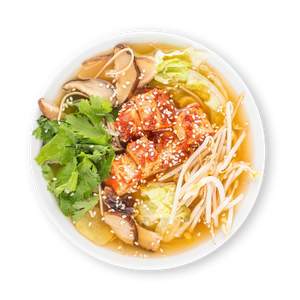 Veggie Pho
Enjoy our recipe Veggie Pho by feastr. Ideal to lose weight. Balanced and very tasty.
Recipe instructions:
1
Cut the tofu into approx. ½ in cubes. Marinate them in a bowl with soy sauce, coconut oil and sesame seeds and set aside.
3.5 oz Tofu

1 Tbsp Soy sauce, light

1 tsp Coconut oil

2 tsp Sesame seeds
2
Coarsely chop the ginger and garlic.
4
Heat the oil in a pot and roast the spices, onion, garlic and ginger for around 3-4 minutes.
5
Add the broth, hot sauce, miso, soy sauce, and garlic to the pot and bring to a boil.
6
Let the soup simmer for 20 minutes, strain and add the soup back into the pot. Throw away the solid ingredients.
7
Finely chop the green onion, slice the mushrooms and cut the bok choy into strips.
8
When the soup starts to boil add the noodles, mushrooms and cook them according to the package instructions.
2.5 oz Rice noodles
9
Add the agave syrup, tofu and bok choy 2 minutes before the end of cooking time and let simmer.
1 ⁠½ tsp Agave syrup
10
Season with lemon juice. Serve in a bowl and top with the green onion, bean sprouts, and cilantro.
1.8 oz Bean sprouts

½ Lemon (~ 1 oz)