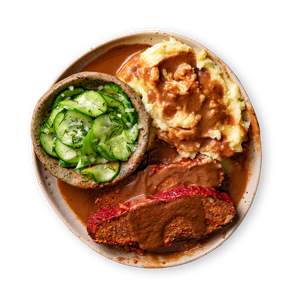 Juicy Walnut-Meatloaf with Mashed Potatoes and Cucumber Salad
The perfect recipe if you want for a big family dinner. Enjoy good food with your loved ones.
Recipe instructions:
1
Finely chop a quarter of the veggies and put in a bowl. Coarsely chop the rest of the veggies and add into a baking dish.
2
Add all ingredients mentioned below into the baking dish and mix well.
3
Preheat the oven to 350 °F.
4
Coarsely chop the parsley and walnuts and add to the bowl with the finely chopped veggies.
2 twigs of Parsley, fresh or frozen (~ 1 tsp)

1 ⁠½ Tbsp Walnuts

½ tsp Sweet paprika, ground
5
Add the veggie minced meat, breadcrumbs, tomato paste, salt, pepper and mix well.
6
Shape the veggie minced meat into a loaf and add into the baking dish. Bake for approx. 40-50 minutes.
7
Mix all ingredients mentioned below and baste the loaf every 10 minutes.
1 Tbsp Ketchup

1 tsp Balsamic vinegar

2 tsp Barbecue sauce

½ tsp Garlic powder
8
Slice the cucumber thinly, finely chop the onion. Add everything into a bowl.
9
Chop the dill and add into the bowl alongisde the cucumber. Add olive oil, vinegar, salt and agave syrup. Mix well and set aside.
10
Bring a pot of water to a boil. Peel and dice the potatoes into approx. ¾ in cubes. Add the potatoes to the pot and cook approx. 15 minutes until tender.
11
Drain the potatoes. Add the milk, and margarine and mash until creamy. Season with salt, pepper, and nutmeg. Cover with a lid to keep warm.
12
Take the veggie meatloaf out of the baking dish. Transfer the veggies and sauce into a blender and mix until smooth. If you want the sauce to be smooth you can pass it through a sieve.
13
Serve the mashed potatoes with your cucumber salad, meatloaf and sauce.