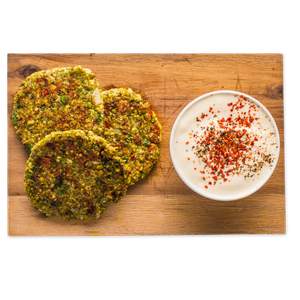 Pea and Corn Fritters with herb dip
Enjoy our vegetarian recipe Pea and Corn Fritters with herb dip by feastr. Ideal to lose weight. High Protein and very tasty.
Recipe instructions:
1
In a colander wash the peas and corn with lukewarm water until defrosted. Blend with an immersion blender until smooth and put in a bowl.
1 cup Green peas, frozen

½ cup Sweet corn, canned
2
Finely chop the parsley and chili. Set aside half of the parsley. Add the rest of the parsley and chili into the bowl.
3 twigs of Parsley, fresh or frozen (~ 2 tsp)

1 Chili pepper (~ 0.2 oz)
3
Dice the onion and carrot and add to the bowl.
4
Add the egg, flour, turmeric, salt, and pepper to the bowl and mix well.
5
Mix the yogurt with a few splashes of water and stir until creamy. Season with salt and pepper and add the remaining parsley.
6
Form fist-sized, approx. ¾ in thick patties. Heat the olive oil in a non-stick frying pan over medium heat and fry the patties from both sides for approx. 4-5 minutes until golden brown.
2 tsp Olive oil
7
Serve the fritters with the dip.