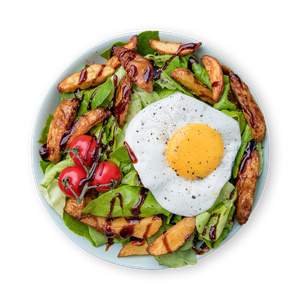 Hiker's Salad
Salad does not have to be boring. Try our Hiker's Salad with fried egg, potatoes, and an amazing dressing, and let us convince you that salad can taste delicious.
Recipe instructions:
1
Preheat the oven to 350 °F.
2
Cut the potatoes into wedges and spread onto a baking tray lined with parchment paper. Add the olive oil, paprika powder, and salt. Mix well.
7.1 oz Potatoes (w/o skin)

1 tsp Olive oil

½ tsp Sweet paprika, ground

Salt
3
Bake for approx. 25 minutes until golden brown.
4
Rinse and drain the lettuce, cut into bite-size pieces and put into a bowl.
5
Halve the tomatoes and add to the bowl.
3.5 oz Cherry tomatoes
6
Add the balsamic vinegar, olive oil, honey, and mustard to a mason jar. Screw the lid on tightly and shake vigorously until combined. Season with salt and pepper.
2 tsp Balsamic vinegar

1 tsp Olive oil

1 ⁠½ tsp Honey

1 tsp Yellow mustard

Salt

Black pepper
7
Heat the canola oil in a non-stick frying pan over medium heat. Add the eggs and fry until the whites are set, but the yolks are still runny.
1 tsp Canola oil

2 Eggs (~ 3.9 oz)
8
Drizzle the dressing over the salad and toss lightly until coated evenly. Serve with the potatoes and fried eggs.