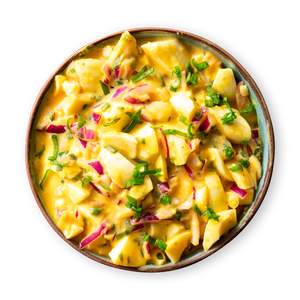 Creamy Egg Salad
Enjoy our vegetarian recipe Creamy Egg Salad by feastr. Ideal to lose weight. Balanced, quick, and very tasty.
Recipe instructions:
1
In a pot, bring water to a boil. Boil the eggs for approx. 8 minutes. Shock with cold water, peel, cut into eighths, take out the yolk and put into a bowl. Put the egg whites into a second bowl.
3 Eggs (~ 5.8 oz)
2
Finely chop the onion and add into the bowl with the egg whites.
½ Onion, red (~ 1.5 oz)
3
Add the canola oil, vinegar, mustard, salt, pepper, honey and paprika into the bowl with the yolk and mix well with a fork.
2 tsp Canola oil

1 Tbsp White wine vinegar

1 tsp Yellow mustard

Salt

Black pepper

¾ tsp Honey

½ tsp Sweet paprika, ground
4
Finely chop the chives and mix with the yolk mix. Add it into the bowl with the egg whits and mix well. Serve with the bun.