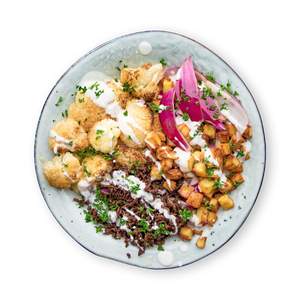 Cauliflower Potato Stew
Enjoy our vegetarian recipe Cauliflower Potato Stew by feastr. Ideal to lose weight. Low Carb, High Protein, and very tasty.
Recipe instructions:
1
Mash the tofu on a plate using a fork until crumbly.
7.1 oz Smoked tofu
2
Coarsely chop the onion.
3
Take the cauliflower out of the freezer and let defrost. Peel the potatoes, dice them coarsely and transfer to a bowl.
7.1 oz Cauliflower, frozen

3.5 oz Potatoes (w/o skin)
4
Heat the canola oil in a non-stick frying pan over high heat and fry the crumbled tofu until it browns.
1 tsp Canola oil
5
Once the tofu turns golden brown, turn the heat to medium, add the onions and fry until translucent.
6
Add the cauliflower and potatoes and fry for approx. 5 minutes. Stir occasionally.
7
Add the vegetable broth and season with salt, pepper, and paprika powder.
8
Let simmer for approx. 15 minutes until the vegetables are soft but still have a bite to them.
9
Stir in the cream cheese and bring to a boil. Season with salt and pepper and turn off the heat.
2 ⁠½ Tbsp Cream cheese