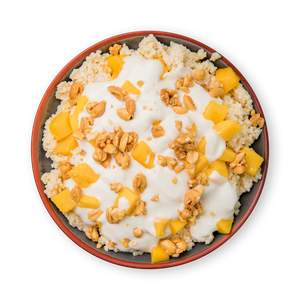 Sweet Mango Breakfast Couscous
Have you ever tried a sweet version of couscous? No? Then give us a chance to convince you how good our Mango breakfast couscous tastes
Recipe instructions:
1
Prepare the couscous according to the package instructions using milk instead of water and add the agave syrup.
2
Cut the mango into bite-size pieces.
½ Mango (~ 5.9 oz)
3
Toast the peanuts on medium heat in a non-stick frying pan without oil until golden brown. Stir occasionally.
1 Tbsp Peanuts, roasted
4
Stir the yogurt into the couscous and top with the mango and peanuts.
1⁄3 cup Soy yogurt