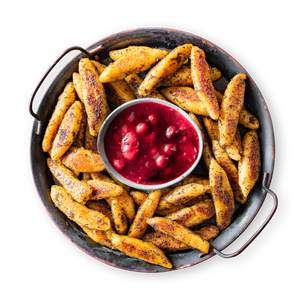 Potato Noodles with Cherry Sauce
Enjoy our vegan recipe Potato Noodles with Cherry Sauce by feastr. Ideal to lose weight. Balanced and very tasty.
Recipe instructions:
1
Wash the potatoes, put them in a pot with water and cook until done.
2
Drain, peel and mash the potatoes. Add the flour, starch, cinnamon, agave syrup and knead until you get a smooth dough.
½ cup Flour, all-purpose

1 Tbsp Cornstarch

¾ tsp Cinnamon, ground

2 tsp Agave syrup
3
Cover the dough and set aside for 10 minutes. Bring a pot with water to a boil.
4
Place the dough on a surface covered with flour. Form a 1 ⁠½ in thick roll. Cut ¾ in slices off that roll and form your Schupfnudeln.
5
Take a few Schupfnudeln and add them into your pot with simmering water. Let them cook for approx. 5 minutes until the float on the surface. Remove the Schupfnudeln, cool with cold water and set aside.
6
Drain the cherries (save the juice) and transfer the same amount of juice into a pot.
7
Add starch, agave syrup and vanilla, bring to a boil and turn off the heat.
2 tsp Cornstarch

1 tsp Agave syrup

Vanilla extract
8
Heat the canola oil in a non sticking frying pan on medium heat. Add the potato noodles and fry until golden brown. Add agave syrup and poppy seeds and let caramelize briefly.
1 tsp Canola oil

2 tsp Agave syrup

2 tsp Poppy Seeds
9
Serve the potato noodles with the cherry sauce.