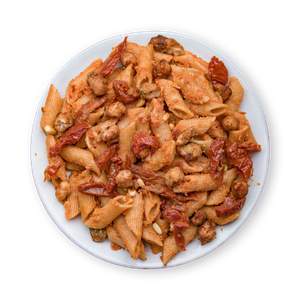 Penne with Pesto Rosso
Enjoy our vegan recipe Penne with Pesto Rosso by feastr. Ideal to lose weight. Balanced and very tasty.
Recipe instructions:
1
Prepare the vegan meat substitute strips according to the package instructions.
2
Toast the pine nuts on medium heat in a non-stick frying pan without oil until golden brown. Stir occasionally. Add the pine nuts to a bowl.
1 Tbsp Pine nuts
3
Cook the pasta according to the package instructions, then drain them, saving a mugful of the cooking water.
4
Drain the dried tomatoes. Chop the dried tomatoes and garlic and put them in the bowl alongside the olive oil and pine nuts.
2.8 oz Tomatoes, sun-dried, in oil

1 Garlic clove (~ 0.1 oz)

2 tsp Olive oil
5
Add the balsamic vinegar and crushed pepper to the bowl. Blend with an immersion blender until your pesto is smooth and creamy.
1 tsp Balsamic vinegar

¼ tsp Crushed pepper
6
Heat the canola oil in a non-stick frying pan over medium heat. Fry the vegan meat substitute until golden brown. Season with salt and pepper.
1 tsp Canola oil

Salt

Black pepper
7
Sip by sip add the pasta water to your pesto and mix until you obtain the desired consistency. Add the pasta, mix well and top with the vegan meat substitute.