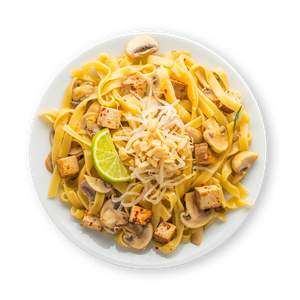 Vegan Pad Thai
Enjoy our recipe Vegan Pad Thai by feastr. Ideal to lose weight. Balanced and very tasty.
Recipe instructions:
1
Prepare the rice noodles according to the package instructions.
3.5 oz Rice noodles
2
Mix the sugar, soy sauce, white wine vinegar, crushed pepper and water in a small bowl.
1 ⁠½ tsp Granulated sugar

¼ cup Soy sauce, light

1 ⁠½ Tbsp White wine vinegar

1 tsp Crushed pepper

3 ⁠½ Tbsp Water
3
Dice the tofu. Clean and slice the mushrooms. Chop the garlic and green onion finely. Set the mushrooms, garlic and green onion aside separately.
4
Heat the canola oil in a non-stick frying pan over high heat. Fry the tofu until golden brown, remove from the pan and set aside.
1 tsp Canola oil
5
Add the canola oil into the pan and heat it over medium heat. Fry the garlic for 1 minute. Add the mushrooms and fry for 2 more minutes.
1 tsp Canola oil
6
Add the rice noodles and the sauce, mix well and continue to fry for 1 minute. Add the tofu, sprouts and green onions and fry everything for 2 minutes.
0.9 oz Bean sprouts
7
Serve on a plate, top with the chopped peanuts and drizzle with lime juice.