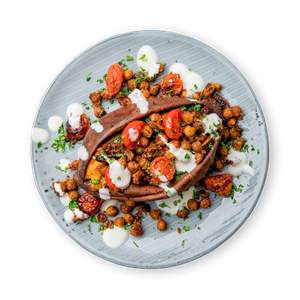 Oriental Stuffed Sweet Potato
Enjoy our vegan recipe Oriental Stuffed Sweet Potato by feastr. Ideal to lose weight. Balanced and very tasty.
Recipe instructions:
1
Preheat the oven to 400 °F. Rinse and dry the sweet potatoes. Pierce with a fork, place on a lined baking tray, drizzle with oil and rub the oil onto the flesh. Season with salt and bake for approx. 80 minutes.
2
Wash and drain the chickpeas. Coarsely chop the onion and halve the cherry tomatoes. Put everything into a bowl.
3
Add all ingredients into the bowl.
1 tsp Olive oil

1 ⁠½ tsp Natural peanut butter

1 pinch of Crushed pepper

½ tsp Curry powder

½ tsp Turmeric, ground

½ tsp Sweet paprika, ground
4
Add salt, pepper and water and mix.
Salt

Black pepper

2 Tbsp Water
5
Approx. 20 minutes before the end of baking time, add the vegetables to the baking tray.
6
Finely chop the green onion and mix with yogurt, lemon juice until creamy. Season with salt and pepper.
½ Green onion (~ 0.6 oz)

1⁄3 cup Soy yogurt

½ Lemon (~ 1 oz)

Salt

Black pepper
7
Finely chop the cilantro and cut the chili into rings.
2 twigs of Cilantro, fresh or frozen (~ 1 tsp)

½ Chili pepper (~ 0.1 oz)
8
Take the sweet potatoes out of the oven. Carefully place them on a plate, cut them open lengthwise, stuff with the chickpea-veggie mix the, drizzle with the yogurt sauce and top with the chili and cilantro.