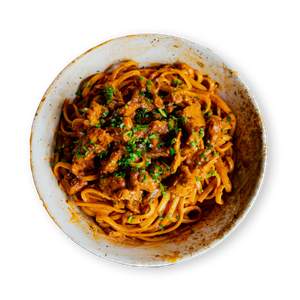 Mushroom Goulash
Enjoy our vegan recipe Mushroom Goulash by feastr. Balanced and very tasty.
Recipe instructions:
1
Finely chop the onions and garlic. Clean the mushrooms.
4.4 oz Chanterelle mushrooms

½ Onion, yellow (~ 1.4 oz)

1 Garlic clove (~ 0.1 oz)
2
Heat the oil in a non-stick frying pan over medium heat. Add the onions and garlic and fry until the onions turn translucent. Add the mushrooms and fry until all the water has evaporated.
1 tsp Canola oil
3
Add tomato paste, pepper, paprika, flour, and wine and let simmer briefly.
2 tsp Tomato paste

Black pepper

½ tsp Hot paprika, ground

1 ⁠½ Tbsp Flour, all-purpose

1 ⁠½ Tbsp White wine
4
Stir in the cream cheese and cream and let cook for 2-3 minutes on medium heat. Add the broth, turn the heat to low heat and let simmer for 20-25 minutes. Stir occasionally.
1 ⁠½ Tbsp Vegan cream cheese

½ cup Vegan cream alternative

1 cup Vegetable broth
5
Prepare the pasta according to the package instructions. Finely chop the chives.
6
Cut the chicken into bite size pieces. Heat the canola oil in a non-stick frying pan over high heat. Fry the chicken substitute until golden brown, remove it from the pan and set aside.
7
Add the chives, chicken substitute, and pasta into the pan with the sauce, heat briefly, turn off the heat and serve.