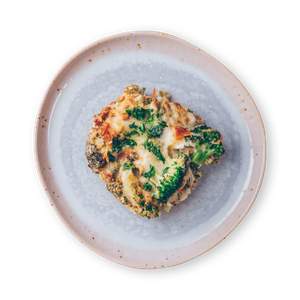 Veggie Broccoli Casserole
This low carb dish is great for meal prepping. It keeps in the fridge for 3-4 days. It not only saves you carbohydrates, but also time in the kitchen.
Recipe instructions:
1
Remove the cauliflower florets from the stem, cut into bite-size pieces and set aside.
2
Finely chop the onion and garlic.
3
Heat the butter in a non-stick frying pan over medium heat and fry the onions and garlic until the onions turn translucent.
1 tsp Margarine
4
Add the veggie minced meat and fry for approx. 6-7 minutes until the meat starts to brown.
5
Preheat the oven to 400 °F.
6
Add the broccoli and broth put the lid on top and cook for 6-7 minutes.
¼ cup Vegetable broth
7
Stir in the cream cheese, season with salt and pepper and transfer to a baking dish.
¼ cup Cream cheese

Salt

Black pepper
8
Top with the cheese and cook for 10-15 minutes until the cheese turns golden brown.