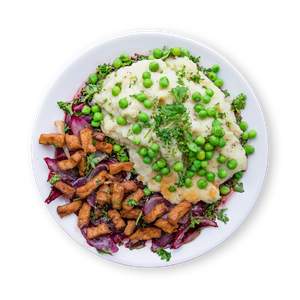 Mashed Potatoes with Peas
Enjoy our vegan recipe Mashed Potatoes with Peas by feastr. Ideal to lose weight. High Protein and very tasty.
Recipe instructions:
1
Prepare the vegan meat substitute strips according to the package instructions.
2
Bring a pot of water to a boil.
Salt
3
Peel and dice the potatoes into approx. ¾ in cubes. Add the potatoes to the pot and cook until tender.
4
Coarsely chop the onion and put on a plate.
5
Mix the red wine, balsamic vinegar, and agave syrup in a bowl.
3 ⁠½ Tbsp Red wine

1 Tbsp Balsamic vinegar

1 ⁠½ tsp Agave syrup
6
Heat the canola oil in a non-stick frying pan over medium heat and fry the soy chunks until golden brown. Add the onions and fry until translucent.
2 tsp Canola oil
7
Deglaze the onions with the red wine mixture. Reduce to around ½ and turn of the heat.
8
Once the potatoes are cooked, add the peas, turn off the heat and wait for 2 minutes before draining them.
¾ cup Green peas, frozen
9
Add the milk to the potatoes and mash until creamy. Season with salt, pepper, and nutmeg. Cover to keep warm.
10
Heat the red wine sauce and serve with the mashed potatoes.
11
Add the mashed potatoes, peas and red wine sauce to the plate.