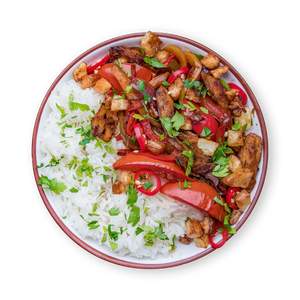 Lomo Saltado
Enjoy our vegan recipe Lomo Saltado by feastr. Ideal to lose weight. Balanced and very tasty.
Recipe instructions:
1
Line a baking tray with parchment paper. Preheat the oven to 400 °F. Peel and dice the potatoes into approx. ¾ in cubes and place on the baking tray. Drizzle with olive oil and bake for approx. 20 minutes until golden brown.
2
Prepare the vegan meat substitute strips according to the package instructions.
3
Slice the onion and finely chop the garlic. Put everything into a bowl.
4
Cut the pepper into thin slices. Cut the tomato into eighths and remove the seeds. Cut the chili into thin rings and put everything in a second bowl.
½ Bell pepper, yellow (~ 2.5 oz)

1 Tomato (~ 4.2 oz)

½ Chili pepper (~ 0.1 oz)
5
Prepare the rice according to the package instructions.
½ cup Rice
6
Heat the canola oil in a non-stick frying pan over high heat. Fry the vegan meat substitute until golden brown. Season with salt and pepper.
1 tsp Canola oil

Salt

Black pepper
7
Turn the heat to medium, add the onions and garlic and fry until the onions turn translucent.
8
Add the peppers, tomatoes, and chili and cook for approx. 3-4 minutes. Deglaze with the lime juice and soy sauce, season with cumin and let simmer briefly.
9
Add the potatoes to the pan, turn off the heat and warm with the residual heat.
10
Coarsely chop the cilantro. Serve the rice with vegetables and top with the cilantro.