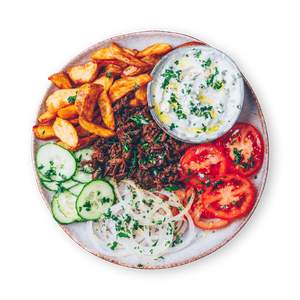 King Oyster Mushroom Gyros with potato wedges
Enjoy our vegan recipe King Oyster Mushroom Gyros with potato wedges by feastr. Ideal to lose weight. Balanced and very tasty.
Recipe instructions:
1
Preheat the oven to 400 °F. Peel and quarter the potatoes. Put them in a bowl and mix with the olive oil and salt.
2
Place the potato wedges on a baking tray lined with parchment paper and bake for 15-20 minutes until the wedges are golden brown and crispy.
3
Mix the cream cheese with water until creamy. Grate the cucumber, put in a kitchen towel, and press as much water out of the cucumber as you can and add to the cream cheese. Chop the garlic and add to the cream cheese alongside the olive oil.
4
Finely chop the parsley and dill and add to the bowl. Season with salt and pepper.
1 twig of Parsley, fresh or frozen (~ ½ tsp)

1 twig of Dill weed, fresh or frozen (~ 1 ⁠½ tsp)

Salt

Black pepper
5
Cut the onion into rings. Slice the tomato and cucumber and put on a plate.
6
Cut the mushrooms into thin strips an put in a bowl.
7
Add all ingredients mentioned below and mix well.
2 tsp Olive oil

¼ tsp Hot paprika, ground

¼ tsp Garlic powder

¼ tsp Rosemary leaves, dried

¼ tsp Oregano leaves, dried

1 pinch of Cayenne pepper

2 tsp Soy sauce, light

1 pinch of Cumin, ground
8
Add the mushrooms to a non-stick frying pan over high heat and fry for 3-4 minutes. Turn the heat to medium and fry for an extra 5-6 minutes. Turn off the heat.
9
Serve the mushrooms with the dip, wedges and veggies on a plate.