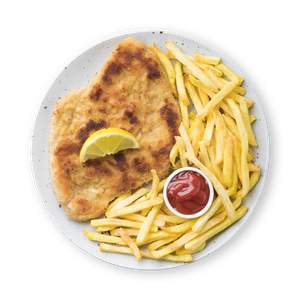 Crispy Schnitzel with French Fries
Enjoy our vegan recipe Crispy Schnitzel with French Fries by feastr. Ideal to lose weight. High Protein and very tasty.
Recipe instructions:
1
Preheat the oven to 400 °F. Peel and cut the potatoes into approx. ½ in thick fries. Put them in a bowl and mix with the olive oil and salt.
2
Spread the fries on a baking tray lined with parchment paper and bake in the oven for approx. 20 minutes. Turn the fries halfway through the cooking time.
3
Place The vegan steaks in a bowl, cover with boiling water, let sit for approx. 5 minutes and squeeze out as much excess water as you can.
4
In a deep plate mix the egg substitute according to the package instructions. Add the milk and whisk until combined.
5
Put the flour and breadcrumbs onto two separate plates. Place plates in front of you side by side. Arrange the plates in the following order: flour, egg replacement, breadcrumbs.
6
One at a time, dredge the vegan steaks in flour until the surface is covered. Dip into the egg-substitute to coat. Allow the excess to drip off for a few seconds, then roll in the breadcrumbs until coated.
7
Heat half of the oil in a non-stick frying pan over medium heat. Fry the schnitzels from one side until golden brown. Before turning the schnitzel, add the rest of the oil into the pan and fry the other side until golden brown.
2 tsp Canola oil
8
Serve the fries with the schnitzels and ketchup.
2 Tbsp Ketchup