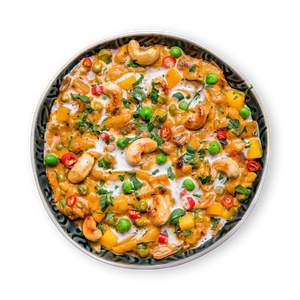 Creamy Mango Coconut Curry
Enjoy our vegan recipe Creamy Mango Coconut Curry by feastr. Ideal to lose weight. Balanced and very tasty.
Recipe instructions:
1
Chop the onion coarsely and chili finely. Cook the rice according to the package instructions.
2
Heat the coconut oil in a non-stick frying pan over medium heat and fry the curry paste for approx. 1-2 minutes.
1 tsp Coconut oil

½ tsp Curry paste, red
3
Add the onions and chili. Fry until the onions turn translucent. Stir occasionally.
4
Add the coconut milk and vegetable broth.
2⁄3 cup Coconut milk

½ cup Vegetable broth
5
Add the peas and let simmer briefly on low to medium heat.
6
Coarsely chop the pepper and add to the pan.
7
Coarsely chop the mango and cilantro, add both to the pan and let simmer for 5 minutes.
8
Heat a non-stick frying pan over medium heat. Toast the cashews without oil, tossing occasionally until golden brown.
1 Tbsp Cashews
9
Add the agave syrup and caramelize for approx. 30 seconds. Stir constantly. Turn off the heat and set the cashews aside.
1 ⁠½ tsp Agave syrup
10
Serve with the rice and top with the cashews.