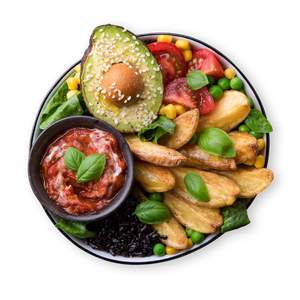 Classic Buddha Bowl
Enjoy our vegan recipe Classic Buddha Bowl by feastr. Ideal to lose weight. Balanced and very tasty.
Recipe instructions:
1
Cook the rice according to the package instructions.
¼ cup Basmati rice
2
Preheat the oven to 350 °F.
3
Peel, wash and cut the potatoes into approx. ¾ in thick wedges.
4
Spread the potato slices on a baking tray lined with parchment paper, drizzle with olive oil and bake in the oven for approx. 20 minutes. Turn the fries halfway through the cooking time.
1 tsp Olive oil
5
In a colander, rinse and drain the peas and corn with warm water and put in a bowl.
1⁄3 cup Green peas, frozen

1⁄3 cup Sweet corn, canned
6
Dice the avocado, halve the tomatoes, cut the salad into bite-size pieces and add to the bowl.
7
Put the lemon juice, hot sauce and agave syrup in a small bowl.
8
Add the ingredients listed below to the bowl and mix until you get a smooth dressing. Drizzle the dressing over the salad and toss lightly until coated evenly.
1 tsp Olive oil

1 Tbsp Water

Salt
9
Take the potato wedges out of the oven and serve with the rice and salad.