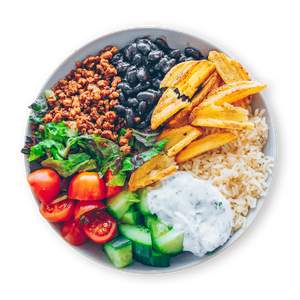 Black Bean Bowl
Enjoy our vegan recipe Black Bean Bowl by feastr. Ideal to lose weight. Balanced and very tasty.
Recipe instructions:
1
Preheat the oven to 400 °F. Prepare the rice according to the package instructions.
¼ cup Rice
2
Peel the potatoes and cut into approx. ¼ in slices. Add into a bowl drizzle with olive oil, season with salt and transfer to a baking tray lined with parchment paper.
3
Halve the tomatoes, cut the salad into mouth sized pieces, dice the cucumber.and place in a bowl.
4
Chop the parsley and mix in a bowl with yogurt, salt, pepper and white vine vinegar.
5
Drain the beans. Heat the canola oil in a non stick frying pan over medium heat, add the veggie minced meat and fry until golden brown.
½ cup Kidney beans, canned

5.3 oz Vegan crumbled meat substitute, fresh
6
Serve the veggie minced meat with the potatoes, rice and veggies and top with your dip and sesame.
1 tsp Sesame seeds