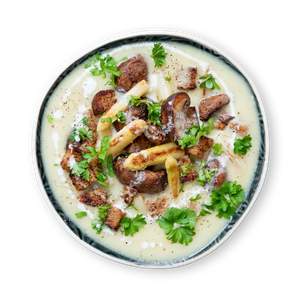 Asparagus Mushroom Soup with Garlic Croutons
Enjoy our vegan recipe Asparagus Mushroom Soup with Garlic Croutons by feastr. Ideal to lose weight. Balanced and very tasty.
Recipe instructions:
1
Trim approx. ¾ in off the base of each asparagus spear and then peel it from its head down to remove its woody exterior. Cut into approx. ¾ in long pieces.
2
Bring a large pot with water, salt and lemon juice to a boil. Cook the asparagus for approx. 12 minutes until soft and tender. Drain the asparagus water and save it in a mug.
Salt

½ Lemon (~ 1 oz)
3
Heat the margarine in a pot, add the flour and cook, stirring constantly until it turns light yellow.
4
Add the asparagus water, vegetable broth, thyme, and nutmeg. Let simmer for approx. 10 minutes.
1 cup Water

1 cup Vegetable broth

1 tsp Thyme leaves, dried

1 pinch of Nutmeg, ground
5
Cut the mushrooms into quarters, finely chop the garlic and dice the bread.
6
Heat the olive oil in a non-stick frying pan over medium heat. Add the garlic and bread cubes and fry for approx. 5 minutes until the bread turns golden brown. Take the bread out of the pan. Add the mushrooms into the pan and fry until golden brown.
1 tsp Olive oil
7
Finely chop the chives. Stir the vegan cream and asparagus into the soup. Serve and top with the mushrooms, croutons, and chives.
¼ bunch of Chives, fresh or frozen (~ 2 Tbsp)

2 Tbsp Vegan cream alternative