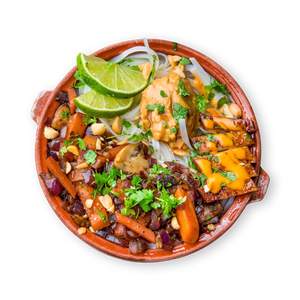 Asian Rice Noodle Bowl with Peanut Sauce
Enjoy our vegan recipe Asian Rice Noodle Bowl with Peanut Sauce by feastr. Ideal to lose weight. Balanced and very tasty.
Recipe instructions:
1
Dice the tofu and put it in a bowl. Cook the noodles according to the package instructions.
4.2 oz Tofu

2.8 oz Rice noodles
2
Cut the carrot into thin strips, clean and slice the mushrooms and finely chop the onion and garlic and add everything into a second bowl.
1 Carrot (~ 3.4 oz)

4.4 oz Mushrooms

1 Onion, yellow (~ 2.8 oz)

1 Garlic clove (~ 0.1 oz)
3
Add the ingredients listed below to a mason jar. Screw the lid on tightly and shake vigorously.
2 tsp Hot sauce (e.g. Sriracha)

1 ⁠½ Tbsp White wine vinegar

2 tsp Natural peanut butter

1 ⁠½ Tbsp Soy sauce, light

2 Tbsp Water

2 ⁠½ tsp Agave syrup
4
Heat the canola oil in a non-stick frying pan over high heat. Fry the tofu until golden brown, add half of the sauce, reduce completely and remove from the pan.
1 tsp Canola oil
5
Add the canola oil into the pan, turn the heat to medium and fry the onions, garlic, carrots, and mushrooms until the onions turn translucent.
1 tsp Canola oil
6
Add the tofu and the remaining sauce to the pan. Let simmer for 1-2 minutes and serve with the noodles.