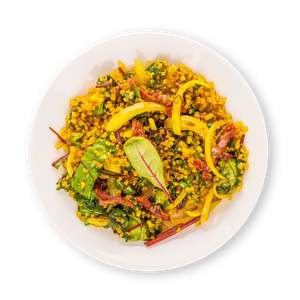 Turmeric Bulgur with Swiss Chard
Enjoy our vegan recipe Turmeric Bulgur with Swiss Chard by feastr. Ideal to lose weight. Balanced, quick, and very tasty.
Recipe instructions:
1
Add the bulgur, lemon juice, vegetable broth and turmeric into a pot and cook the bulgur according to the package instructions.
½ cup Bulgur wheat

½ Lemon (~ 1 oz)

1 cup Vegetable broth

¼ tsp Turmeric, ground
2
Finely chop the onion, rinse and drain the chard and put both into a bowl.
3
Drain the tomatoes, halve the chili and remove the seeds, chop everything finely.
0.5 oz Tomatoes, sun-dried, in oil

½ Chili pepper (~ 0.1 oz)
4
Heat the olive oil in a pot over medium heat. Fry the onions and swiss chard until the onions turn translucent. Add the chili and tomato and fry for approx. 1-2 minutes.
1 tsp Olive oil

Water
5
Mix the bulgur with the vegetables and season with salt, pepper, and olive oil.
Salt

Black pepper

2 tsp Olive oil