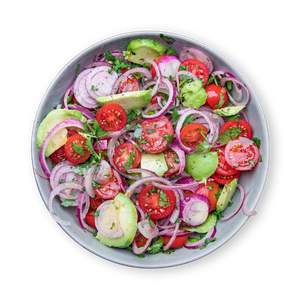 Tomato, Onion, Avocado Salad
Enjoy our vegetarian recipe Tomato, Onion, Avocado Salad by feastr. Ideal to lose weight. Low Carb, quick, and very tasty.
Recipe instructions:
1
Finely slice the onion and dice the cucumber and put them both into a bowl.
½ Onion, red (~ 1.5 oz)

¼ Cucumber (~ 3.9 oz)
2
Peel the avocado, remove the pit and dice it. Halve the tomatoes and add everything to the bowl.
1 Avocado (~ 7.1 oz)

3.5 oz Cherry tomatoes
3
Coarsely chop the cilantro and add to the bowl.
4
In a small bowl, mix the lime juice, olive oil, honey, salt, and pepper until well combined.
5
Add the dressing to the bowl and toss lightly until coated evenly.
6
Coarsely chop the nuts and top salad with it.
1 ⁠½ Tbsp Peanuts