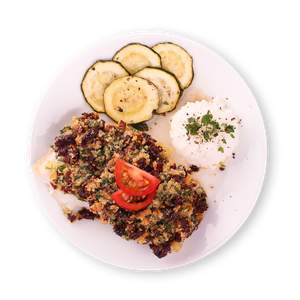 Tomato Crusted Baked Pollock
Enjoy our recipe Tomato Crusted Baked Pollock by feastr. Ideal to lose weight. High Protein and very tasty.
Recipe instructions:
1
Take the pollock out of the freezer and let defrost. Preheat the oven to 400 °F.
10.6 oz Pollock, frozen
2
Finely chop the parsley and garlic, dice the tomatoes and put everything in a bowl.
0.7 oz Tomatoes, sun-dried

3 twigs of Parsley, fresh or frozen (~ 2 tsp)

½ Garlic clove (~ 0.1 oz)
3
Grate the Parmesan and add to the bowl with bread crumbs and butter. Mix well and season with salt and pepper.
1 ⁠½ Tbsp Bread crumbs

0.4 oz Parmesan cheese

2 tsp Butter

Salt

Black pepper
4
Grease a baking dish with olive oil. Season the pollock from both sides with salt and pepper. Place in the baking dish and sprinkle with lemon juice.
2 tsp Olive oil

Salt

Black pepper

½ Lemon (~ 1 oz)
5
Spread the crumble mixture on the pollock and press on firmly.
6
Add the chopped tomatoes to the baking dish and season with salt and pepper.
7
Bake the pollock for approx. 15 minutes until the crust is golden brown.
8
Cook the rice according to the package instructions and serve with the pollock and sauce.
1⁄3 cup Rice