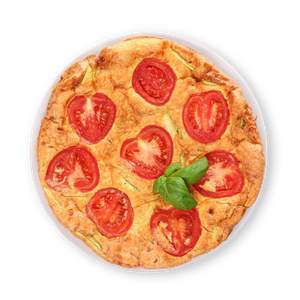 Tomato and Zucchini Frittata
Enjoy our vegetarian recipe Tomato and Zucchini Frittata by feastr. Ideal to lose weight. Low Carb, High Protein, and very tasty.
Recipe instructions:
1
Whisk the eggs in a bowl, season with salt and pepper and add the grated cheese.
2
Finely chop the onion. Cut the zucchini into strips. Finely slice the tomatoes. Put the zucchinis and tomato slices on two different plates.
3
Preheat the oven to 350 °F.
4
Heat the olive oil in a non-stick frying pan over medium heat. Fry the onions until translucent. Add the zucchini and continue to fry for approx. 3-4 minutes.
1 tsp Olive oil
5
Only follow this step, if your PAN IS OVEN SAFE. Otherwise, skip. Add the egg batter into the pan. Place tomatoes evenly on top. Once the egg is set on the corners, transfer the pan into the oven for approx. 20-25 minutes until the eggs are fully set.
6
If the pan is NOT OVEN-SAFE, grease a baking dish with the olive oil, add the contents of the pan and the egg batter, mix well and top with the tomato slices. Bake for approx. 20-25 minutes on the middle rack of the oven until the eggs are puffed and appear cooked.
½ tsp Olive oil