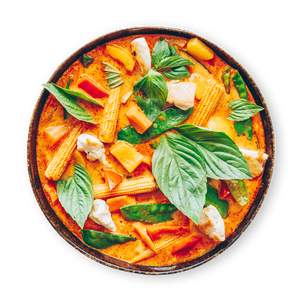 Thai Red Curry with Chicken
Kaeng Phet is a classic Thai dish with roasted chicken and vegetables in coconut milk. However, our version is not nearly as spicy as the original.
Recipe instructions:
1
Prepare the rice according to the package instructions. Cut the chicken into bite sized pieces.
½ cup Jasmine rice

3.5 oz Chicken breast
2
Cut the pepper into strips and the carrot into rings and chop the garlic. Put the peppers in a bowl, the carrots into a second bowl and garlic into a third one.
1 Bell pepper, yellow (~ 4.9 oz)

½ Carrot (~ 1.7 oz)

1 Garlic clove (~ 0.1 oz)
3
Heat the coconut oil in a pot on medium heat. Add the curry paste and roast it for 2 minutes. Add the garlic, chicken and water and let simmer for 5 minutes.
1 Tbsp Coconut oil

2 tsp Curry paste, red

3 ⁠½ Tbsp Water
4
Add the coconut milk and water and bring to a boil. Add the carrots, sugar snap peas and baby corn and let simmer for 2 minutes.
2.8 oz Sugar snap peas

3.5 oz Baby Corn, canned

2⁄3 cup Coconut milk

2⁄3 cup Water
5
Add the soy sauce, bell pepper, thai basil, honey and let cook for 1 more minute and serve with the rice.