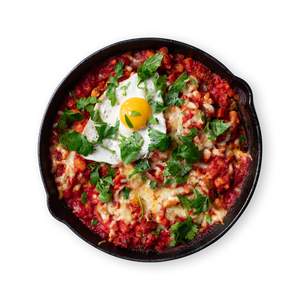 Tex Mex Oven Beans with Fried Egg
We got the perfect recipe to start this year full of energy. Try our baked oven beans with fried egg.
Recipe instructions:
1
Preheat the oven to 375 °F. Wash and drain the beans in a colander and put them in a baking dish.
2
Halve the carrot lengthwise and cut into slices. Halve and slice the onion. Finely chop the celery, dice the pepper and add everything into the baking dish.
1 Carrot (~ 3.4 oz)

1 Onion, yellow (~ 2.8 oz)

1 Celery stalk (~ 1.9 oz)

1 Bell pepper, green (~ 4.8 oz)
3
Finely chop the garlic and parsley and add to the baking dish alongside the spices.
1 Garlic clove (~ 0.1 oz)

5 twigs of Parsley, fresh or frozen (~ 1 Tbsp)

½ tsp Cumin, ground

½ tsp Hot paprika, ground

1 tsp Oregano leaves, dried
4
Add the tomato sauce, Passierte Tomaten, bay leaf , Olivenöl und Wasser mit in die ofenfeste Form geben und gut verrühren., olive oil, and water and mix well.
5
Season with salt and pepper. Bake for approx. 45-55 minutes until the beans start to brown.
Salt

Black pepper
6
15 minutes before the beans are cooked, top with cheese and put back into the oven.
7
5 minutes before you take the beans out of the oven, heat the canola oil in a non-stick frying pan over medium heat. Add the egg and fry until done as desired.
1 tsp Canola oil

1 Egg (~ 1.9 oz)
8
Serve the beans with the fried egg.Remove the bay leaf before eating.