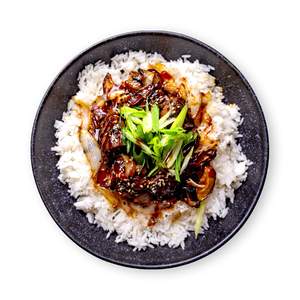 Teriyaki Beef Bowl
Enjoy our recipe Teriyaki Beef Bowl by feastr. Balanced and very tasty.
Recipe instructions:
1
Prepare the rice according to the package instructions.
½ cup Basmati rice
2
Cut the beef into bite size pieces, cut the chili into thin slices and add into a bowl. Add the Teriyaki sauce into a bowl, mix well and let marinate.
3
Cut the onion into eights, remove the stems from the Shiitake mushrooms and slice the rest. Finely dice the garlic and ginger.
1 ⁠½ Onions, yellow (~ 4.2 oz)

3.5 oz Shiitake mushrooms

1 Garlic clove (~ 0.1 oz)

½ in Ginger (~ 0.2 oz)
4
Heat the oil in a pan over high heat. Add the beef and fry until browned and take out of the pan.
2 tsp Canola oil
5
Heat the oil in the same pan on medium heat. Add the garlic and ginger and fry for 30 seconds. Add the Shiitake and onions and fry until the onions turn translucent. Add the beef, water and the Teriyaki sauce and fry for an additional 2-3 minutes.
2 Tbsp Water

1 tsp Canola oil

3 ⁠½ Tbsp Teriyaki Sauce
6
Serve the rice and beef in a bowl. Cut the spring onion into slices. Top the bowl with spring onion and sesame.
½ Green onion (~ 0.6 oz)

2 tsp Sesame seeds