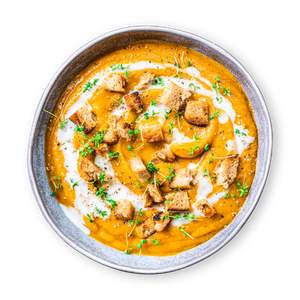 Sweet Potato Pumpkin Soup
Enjoy our vegan recipe Sweet Potato Pumpkin Soup by feastr. Ideal to lose weight. Balanced and very tasty.
Recipe instructions:
1
Preheat the oven to 350 °F.
2
Peel the sweet potato, core the pumpkin and dice both into approx. ¾ in cubes. Cut the onion into wedges and put everything into a bowl.
8.8 oz Pumpkin (w/o seeds)

5.3 oz Sweet potatoes (w/o skin)

1 Onion, yellow (~ 2.8 oz)
3
Coarsely chop the garlic and ginger and add to the bowl.
4
Add the canola oil and the spices listed below to the bowl and mix thoroughly with a spoon.
5
Line a baking tray with parchment paper, spread the vegetables evenly on top and bake for approx. 20 minutes until the veggies are golden brown.
6
Dice the bread. Heat the olive oil in a non-stick frying pan on medium heat. Fry the garlic for approx. 30 seconds. Add the bread and fry until crispy. Remove from the pan.
0.7 oz Whole wheat bread

1 tsp Olive oil
7
Heat the vegetable broth in a pot over medium heat. Add the roasted vegetables and blend with an immersion blender. Season with salt and pepper.
1 cup Vegetable broth

Salt

Black pepper
8
Top the soup with cress, croutons and coconut milk.
1 ⁠½ Tbsp Cress

2 ⁠½ Tbsp Coconut milk