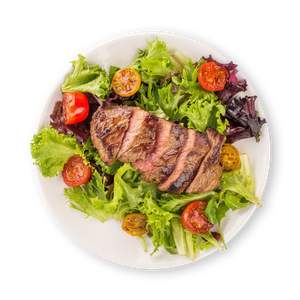 Steak and Salad
Enjoy our recipe Steak and Salad by feastr. Ideal to lose weight. Low Carb, High Protein, and very tasty.
Recipe instructions:
1
Take the steake out of the fridge, put on a plate and leave to rest for at least 15 minutes. If you want the perfect steak experience leave it to rest until the meat reaches room temperature.
7.1 oz Rump steak
2
Rinse and drain the lettuce, cut into bite-size pieces, cut the tomatoes in half and put into a bowl.
3
Add the olive oil and balsamic vinegar to a mason jar. Screw the lid on tightly and shake vigorously until combined. Season with salt and pepper.
1 Tbsp Balsamic vinegar

2 tsp Olive oil

Salt

Black pepper
4
Generously salt and pepper the steak. A ¾ in thick steak takes approx. 3-4 minutes per side until it is medium.
Salt

Black pepper
5
Heat the canola oil in a non-stick frying pan over high heat. Fry the steak and turn it every minute. Each time you turn it, rub it with garlic and brush it with a rosemary twig.
2 tsp Canola oil

½ Garlic clove (~ 0.1 oz)

1 twig of Rosemary, fresh (~ 0.1 oz)
6
Put the steak on a plate, leave to rest for approx. 3-5 minutes.
7
Drizzle the dressing over the salad and toss lightly until coated evenly.
8
Slice the steak and serve together with the salad.