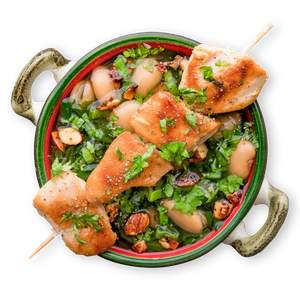 Spinach Bean Soup with Chicken Skewers
Enjoy our recipe Spinach Bean Soup with Chicken Skewers by feastr. Ideal to lose weight. High Protein, quick, and very tasty.
Recipe instructions:
1
Heat the vegetable broth in a pot over high heat until it starts to boil.
2 cups Vegetable broth
2
Add the beans and let simmer for 2 minutes.
3
Whisk the egg in a bowl and season with pepper.
1 Egg (~ 1.9 oz)

Black pepper
4
Add the spinach into the pot and let simmer. When the spinach starts to wilt, add the egg mixture and let simmer, stirring constantly until the egg mixture begins to set.
3.5 oz Spinach
5
Cut the chicken breast into bite-size pieces. If you want you can thread them on wooden skewers.
5.3 oz Chicken breast
6
Heat the canola oil in a non-stick frying pan over high heat. Fry the chicken until golden brown. Turn the heat to medium and keep frying until cooked through. Season with salt and pepper and set aside.
1 tsp Canola oil

Salt

Black pepper
7
Finely chop the green onion.
½ Green onion (~ 0.6 oz)
8
Add soy sauce, pepper and nutmeg to the soup. Serve with chicken and spring onion.