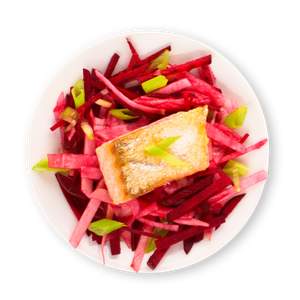 Salmon Spring Salad
Enjoy our recipe Salmon Spring Salad by feastr. Ideal to gain weight and build muscles. Low Carb, quick, and very tasty.
Recipe instructions:
1
Take the salmon out of the refrigerator, rinse under cold water, pat dry and set aside.
8.8 oz Salmon, fresh
2
Cut the kohlrabi, beet, and apple into thin strips. Slice the spring onion and put everything in a bowl.
3
Season with apple cider vinegar, olive oil, soy sauce, and honey.
1 Tbsp Cider vinegar

2 tsp Olive oil

1 Tbsp Soy sauce, light

1 ⁠½ tsp Honey
4
Score the skin of the salmon and season with salt and pepper. Heat the canola oil in a non-stick frying pan over medium heat.
Salt

Black pepper

1 Tbsp Canola oil
5
Sear the salmon on high heat, skin-side down. When its flesh turns white on the sides, turn and finish off for approx. 1-2 minutes.
6
Serve the salad with salmon and top with the peanuts.