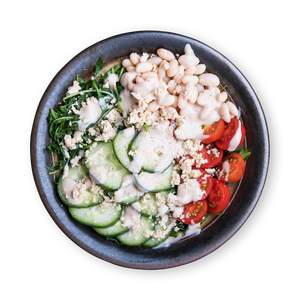 Rocket Salad with Tofu
Enjoy our vegan recipe Rocket Salad with Tofu by feastr. Ideal to lose weight. High Protein, quick, and very tasty.
Recipe instructions:
1
Drain the beans in a colander and put in a bowl.
2
Rinse and drain the arugula, halve the tomatoes, chop the garlic finely, slice the cucumber and crumble tofu and add everything into the bowl.
3
Add the yogurt and mix well.
3 Tbsp Soy yogurt
4
Drizzle with olive oil and balsamic vinegar and season with salt, pepper, and lemon juice.
1 tsp Olive oil

1 tsp Balsamic vinegar

Salt

Black pepper

½ Lemon (~ 1 oz)