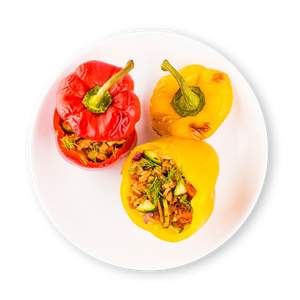 Rice Stuffed Bell Peppers
Enjoy our vegan recipe Rice Stuffed Bell Peppers by feastr. Ideal to lose weight. Balanced and very tasty.
Recipe instructions:
1
Preheat the oven to 350 °F. Cook the rice according to the package instructions.
¼ cup Basmati rice
2
Finely chop the onion, dill, and parsley. Dice the zucchini and carrot. Set the dill and parsley aside.
½ Onion, yellow (~ 1.4 oz)

2 twigs of Dill weed, fresh or frozen (~ 1 Tbsp)

3 twigs of Parsley, fresh or frozen (~ 2 tsp)

½ Zucchini (~ 3.9 oz)

½ Carrot (~ 1.7 oz)
3
Heat the olive oil in a non-stick frying pan over medium heat. Fry the onion, carrot and zucchini until the onions turn translucent.
2 tsp Olive oil
4
Stir in the dill, parsley, lemon juice, vegetable stock, and tomato paste and let simmer for approx. 4-5 minutes. Season with salt and pepper.
½ Lemon (~ 1 oz)

½ cup Vegetable broth

2 Tbsp Tomato paste

Salt

Black pepper
5
Pour half of the sauce and the chopped tomatoes into a baking dish. Add the rice to the pan and mix with the other half of the sauce.
6
Cut off the top of the peppers, spoon out the core and seeds, then rinse. Fill the pepper with your rice vegetable mix, transfer to a baking dish and bake for approx. 30 minutes until the peppers are soft.