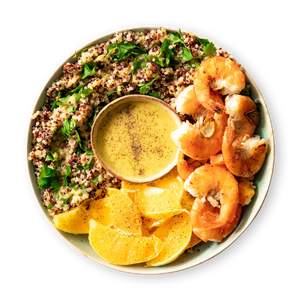 Quinoa Prawn Salad
Enjoy our recipe Quinoa Prawn Salad by feastr. Ideal to lose weight. Balanced and very tasty.
Recipe instructions:
1
Take the prawns out of the freezer and let defrost.
3.5 oz Shrimp, frozen
2
Cook the quinoa according to the package instructions.
2⁄3 cup Quinoa
3
Fillet the orange and put into a bowl.
1 Orange (~ 5.6 oz)
4
Add the juice of the lemon and all the other ingredients mentioned below into a mason jar. Close the lid and shake until smooth and creamy.
½ Lemon (~ 1 oz)

1 ⁠½ tsp Yellow mustard

1 tsp Olive oil

¾ tsp Honey

1 ⁠½ Tbsp Water

Salt

Black pepper
5
Finely dice the garlic. Heat the olive oil in a non stick frying pan. Add the prawns and garlic into the pan and fry the prawns for 2 minutes from each side.
6
Mix the quinoa with the orange filets, prawns, arugula, serve and top with the dressing.
1.1 oz Arugula