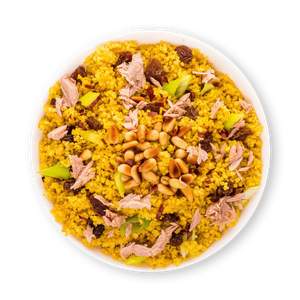 Quick Tuna Couscous Salad
Enjoy our recipe Quick Tuna Couscous Salad by feastr. Ideal to lose weight. High Protein, quick, and very tasty.
Recipe instructions:
1
Prepare the couscous according to the package instructions using vegetable broth instead of water. Drain the tuna.
2
Toast the pine nuts on medium heat in a non-stick frying pan without oil until golden brown. Stir occasionally. Set aside.
1 Tbsp Pine nuts
3
Cut the green onions into rings and finely chop the garlic.
1 ⁠½ Green onions (~ 1.9 oz)

½ Garlic clove (~ 0.1 oz)
4
Heat the olive oil in a non-stick frying pan over medium heat. Fry the green onions, garlic, and raisins for approx. 3-4 minutes.
1 tsp Olive oil

1 ⁠½ Tbsp Raisins
5
Add the spices and fry for approx. 3-4 minutes. Add a little water, let simmer briefly and turn off the heat.
½ tsp Crushed pepper

½ tsp Turmeric, ground

½ tsp Cumin, ground

½ tsp Coriander, ground

2 Tbsp Water
6
Add the couscous and mix well. Pull apart the tuna and top the couscous. Season with salt and pepper, garnish with the pine nuts and serve.
Salt

Black pepper