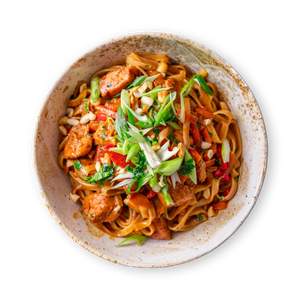 Chicken Thai Noodles
Get yourself in vacation mode with our quick and easy chicken Thai noodles. All you need is a pot and a bit of time.
Recipe instructions:
1
Cut the chicken into bite-size pieces.
4.2 oz Chicken breast
2
Finely chop the garlic, and ginger and set aside separately. Slice the pepper into thin strips. Halve the carrot lenghtwise and cut into ca. ¾ in thick stirps.
1 Garlic clove (~ 0.1 oz)

½ in Ginger (~ 0.2 oz)

½ Carrot (~ 1.7 oz)

½ Bell pepper, yellow (~ 2.5 oz)
3
Heat the oil in a pot over medium heat. Add the curry paste and fry until the oil and paste have combined. Add the garlic and fry for an additional 1-2 minutes.
2 tsp Coconut oil

1 tsp Curry paste, red
4
Add the chicken and fry until golden brown.
5
Add ginger, bell pepper and carrots and fry for 1-2 minutes.
6
Add peanut butter, soy sauce, coconut milk and broth. Cover with a lid and let cook for 15 minutes stirring occasionally.
2 tsp Natural peanut butter

1 Tbsp Soy sauce, dark

1 ⁠¼ cups Vegetable broth

¾ cup Coconut milk
7
Prepare the rice noodles according to the package instructions. Turn off the heat of the curry, add the noodles and mix well.
5.3 oz Rice noodles
8
Cut the green onion into rings.
1 Green onion (~ 1.2 oz)
9
Coarsely chop the peanuts. Serve the pasta, sprinkle with the lime juice and top with the peanuts and spring onions.