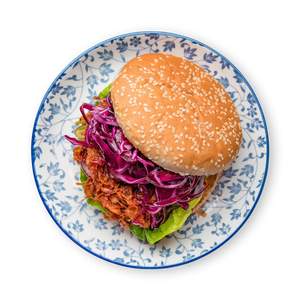 Pulled Jackfruit Burger with Sweet Potato Fries
Enjoy our vegan recipe Pulled Jackfruit Burger with Sweet Potato Fries by feastr. Ideal to lose weight. Balanced and very tasty.
Recipe instructions:
1
Preheat the oven to 400 °F.
2
Slice the onion, tomato, and gherkin.
½ Onion, red (~ 1.5 oz)

1 Tomato (~ 4.2 oz)

1 Gherkin (~ 0.7 oz)
3
Peel the sweet potato, cut into approx. ½ in thick chips and put them in a bowl.
4
Add the olive oil, salt, pepper and mix well. Spread the ingredients on a baking tray lined with parchment paper and bake for approx. 30 minutes until golden brown.
1 tsp Olive oil

Salt

Black pepper
5
Rinse and drain the Jackfruit in a colander. Transfer the jackfruit to a kitchen towel, close and squeeze to get rid of any excess water.
6
Heat the canola oil in a non-stick frying pan over high heat. Add the jackfruit and fry for approx. 5 minutes, stirring occasionally.
1 tsp Canola oil
7
Turn the heat to medium, add the barbecue sauce and let simmer for approx. 2-3 minutes stirring occasionally.
½ cup Barbecue sauce
8
Transfer the jackfruit-bbq mix to a baking dish. Place in the oven alongside the fries and bake until the fries are brown and crispy.
9
Toast the bun and stack your burger with lettuce, tomato, cucumber, onion, red cabbage, and jackfruit. Serve with the fries.
1 Whole wheat roll (~ 2.1 oz)

2 leaves of Lettuce (~ 0.6 oz)

2.1 oz Red cabbage, canned