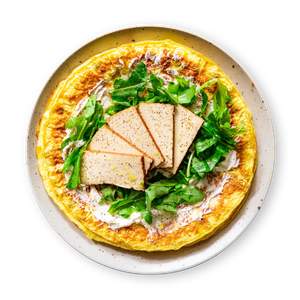 Protein Wraps with Tofu and Cream Cheese
Is it an omelet or a wrap? Doesn't really matter, what matters is that it's packed with tofu, cream cheese, and arugula. So that you get a lot of protein.
Recipe instructions:
1
Finely chop the chives and put into a bowl. Add the eggs, milk, salt and pepper and mix well.
2
Heat a few drops of the olive oil in a non stick frying pan. Add as much egg batter into the pan until the bottom of the pan is completely covered. Fry until the egg starts to set. Flip the egg tortilla and fry for approx. 1-2 minutes until the egg sets. Take the egg tortilla out of the pan and repeat until you are out of batter.
2 tsp Olive oil
3
Slice the tofu. Spread the cream cheese onto the egg tortillas, top with rucola and tofu, roll up and serve.
2.5 oz Smoked tofu

2 ⁠½ Tbsp Cream cheese

1.1 oz Arugula