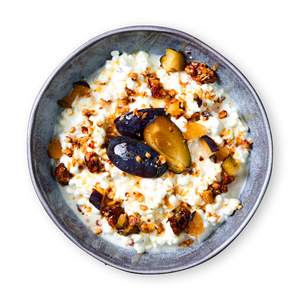 Plum Almond Cottage Chese
Cottage cheese in combination with fresh plums, some sweetness and a nuts make it an ideal recipe to start into the day.
Recipe instructions:
1
Core the plums and dice them.
2 Plums (~ 4.4 oz)
2
Mix the cottage cheese with yogurt and honey until creamy.
3
Toast the almonds on medium heat in a non-stick frying pan without oil until golden brown, turn off the heat and set aside. Add the plums cubes to the pan and warm with the residual heat.
3 Tbsp Almonds, chopped
4
Serve the cottage chese and top with the plums and almonds.