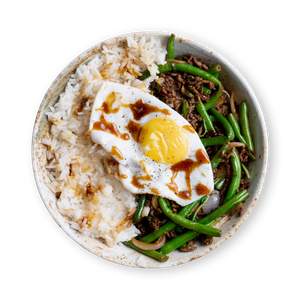 Phat Kaphrao
Enjoy our recipe Phat Kaphrao by feastr. Ideal to lose weight. Balanced and very tasty.
Recipe instructions:
1
Finely chop the chili and garlic. Cut the onion into rings.
4 Chili peppers (~ 0.7 oz)

2 Garlic cloves (~ 0.2 oz)

1 Onion, yellow (~ 2.8 oz)
2
Prepare the rice according to the package instructions.
1 cup Rice
3
Add all ingredients into a bowl and mix well.
4
Heat a pan over medium to high heat. Add the minced meat, garlic and chili and fry until the meat starts to brown.
10.6 oz Ground beef
5
Add the onion and beans and fry until the beans are still slightly crunchy.
6
Add the sauce and fry for an additional 1-2 minutes. Add the basil, turn off the heat and cook with the remaining heat until the basil starts to wilt.
7
Heat the oil in a non-stick frying pan over medium heat and fry the eggs until the yolk begins to set. Turn off the heat and take out of the pan.
1 tsp Canola oil

2 Eggs (~ 3.9 oz)
8
Serve the rice with the minced meat bean mix and egg.