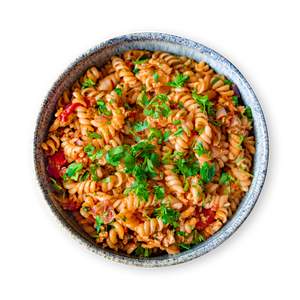 One-Pot Tuna Pasta
If you quickly have to cook a meal: One-Pot Tuna Pasta. Simply put everything in one pot, and your delicious pasta will be ready in no time.
Recipe instructions:
1
Chop the onions, drain the tuna and add into a pot alongside the tomatoes and pasta.
2 Onions, red (~ 6 oz)

5.3 oz Tuna, canned in water

14.1 oz Tomatoes, diced, canned

7.1 oz Farfalle
2
Add all ingredients mentioned below and bring to a boil. Cook until the pasta is cooked. If needed add a bit more water.
1 ⁠¼ cups Vegetable broth

½ tsp Crushed pepper

½ tsp Oregano leaves, dried
3
Chop the parsley and stir into the pot. Season with salt and pepper and serve.