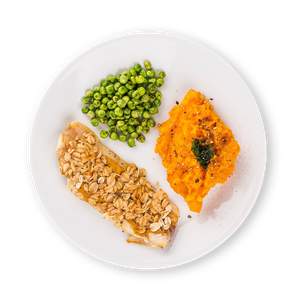 Oatmeal Crusted Cod with Sweet Potato Mash
Enjoy our recipe Oatmeal Crusted Cod with Sweet Potato Mash by feastr. Ideal to lose weight. High Protein and very tasty.
Recipe instructions:
1
Take the cod and peas out of the freezer. Put the peas in a colander and let defrost. Place the cod in a bowl with lukewarm water. Change the water every minute until the cod is defrosted. Put on a plate and pat dry.
2
Preheat the oven to 350 °F.
3
Transfer the fish to a baking dish, season with salt and pepper, brush with mustard, top with the oats and drizzle with olive oil.
4
Add the peas and bake for approx. 15 minutes until the crust is golden brown.
5
Bring a pot of salted water to a boil.
6
Peel and dice the sweet potato into approx. ½ in cubes.
7
Add the sweet potatoes to the pot and cook for approx. 10 minutes until the sweet potatoes are cooked.
8
Drain the sweet potatoes. Add the coconut milk and mash until creamy. Season with salt, pepper, and nutmeg.
1 ⁠½ Tbsp Coconut milk

Salt

Black pepper

½ tsp Nutmeg, ground
9
Serve the fish with peas and potato puree and drizzle with lemon juice.
½ Lemon (~ 1 oz)