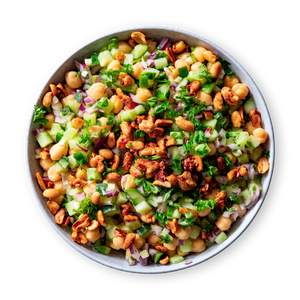 Middle Eastern Chickpea Salad
Enjoy our vegan recipe Middle Eastern Chickpea Salad by feastr. Ideal to lose weight. Balanced, quick, and very tasty.
Recipe instructions:
1
Place the chickpeas in a colander, rinse thoroughly with cold water, drain and put into a bowl.
2
Finely chop the cilantro and onion, halve the cucumber lengthwise cut into slices and add to the bowl.
3
Finely chop the garlic and put in a small bowl.
4
Mix the lime juice, olive oil, cumin, crushed pepper with the garlic and season with salt.
5
Drizzle the dressing over the chickpea salad and toss lightly until coated evenly.
6
Coarsely chop the peanuts and sprinkle them over the salad.