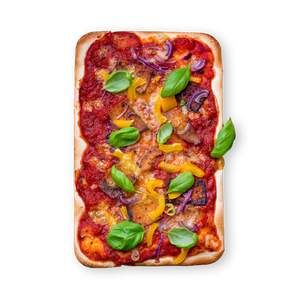 Mediterranean Veggie Pizza
Enjoy our recipe Mediterranean Veggie Pizza by feastr. Ideal to gain weight and build muscles. Balanced and very tasty.
Recipe instructions:
1
In a bowl, combine flour and salt.
¾ cup Whole wheat flour

½ tsp Salt
2
Mix the lukewarm water, olive oil, sugar, and yeast in a small bowl until the yeast dissolves.
3
Add the water-yeast mixture into the bowl and knead for approx. 5 minutes until your dough is smooth.
4
Cover the dough with a damp kitchen towel. Let the dough rise in a warm, draft-free location for at least 30 minutes.
5
Finely chop the garlic and mix thoroughly with the ingredients listed below.
½ Garlic clove (~ 0.1 oz)

1⁄3 cup Tomato sauce, canned

1 tsp Tomato paste

1 tsp Honey

1 tsp Balsamic vinegar
6
Add the salt, pepper, basil, and oregano to the bowl and mix well.
Salt

Black pepper

1 tsp Basil leaves, dried

½ tsp Oregano leaves, dried
7
Finely slice the onion, pepper and set aside.
8
Preheat the oven to 475 °F.
9
Knead the pizza dough for another 3-4 minutes. On a floured countertop, roll out the dough thinly and transfer to a baking tray lined with parchment paper.
10
Spread the tomato sauce evenly on the dough. Top with cheese, onions and peppers and bake the pizza for 10 minutes in the oven until crispy.