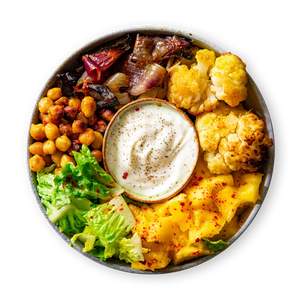 Mango Curry Chickpea Salad
Do you like the combination of sweet and savory foods in a meal? If you do, you should give our mango curry chickpea salad a try.
Recipe instructions:
1
Preheat the oven to 350 °F. Take the cauliflower out of the freezer and let defrost.
2
Cut the onion into eights. Put the onions, chickpeas, and cauliflower on a baking tray lined with parchment paper.
3
Add the olive oil, curry, cumin, honey, soy sauce, pepper onto the baking tray and mix well and bake for approx. 15-20 minutes.
1 Tbsp Olive oil

½ tsp Curry powder

¼ tsp Cumin, ground

2 tsp Honey

1 Tbsp Soy sauce, light

Black pepper
4
Finely chop the chili, dice the mango, wash the salad and add everything into a bowl.
½ Chili pepper (~ 0.1 oz)

½ Mango (~ 5.9 oz)

½ Romaine lettuce (~ 2.1 oz)
5
Add the oven veggies, lime juice, cilantro into the bowl and mix well. Season with salt and pepper and let sit for 5 minutes before serving.
½ Lime, organic (~ 0.7 oz)

1 twig of Cilantro, fresh or frozen (~ ½ tsp)

Salt

Black pepper
6
Mix the yogurt with salt, pepper and balsamic vinegar and serve with the salad.
1⁄3 cup Low fat yogurt

Salt

Black pepper

1 tsp Balsamic vinegar