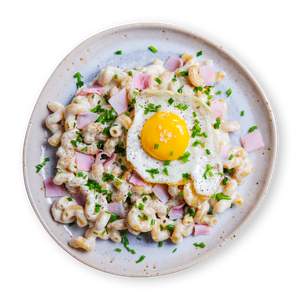 Mac and Cheese with fried eggs
Enjoy our recipe Mac and Cheese with fried eggs by feastr. Ideal to lose weight. High Protein and very tasty.
Recipe instructions:
2
Heat the milk on a pot over medium heat. Add the pasta, garlic and salt and cook stirring constantly until the pasta is al dente. Add water if needed.
3
Turn the heat off, stir in the cheese and ham until the cheese is melted completely.
4
Heat the olive oil in a non-stick frying pan over medium heat and fry the egg until the yolk begins to set.
1 Egg (~ 1.9 oz)
5
Serve the mac and cheese with fried egg and season with pepper.
Black pepper