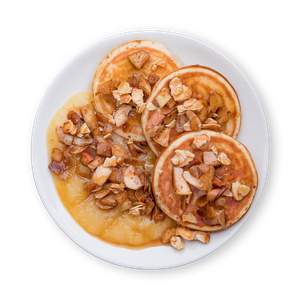 Juicy Protein Pancakes
Enjoy our vegetarian recipe Juicy Protein Pancakes by feastr. Ideal to lose weight. Balanced, quick, and very tasty.
Recipe instructions:
1
Toast the almonds on medium heat in a non-stick frying pan without oil until golden brown. Add the honey, turn of the heat and caramelize with the residual heat and set aside.
2
Finely dice the apple and mix in a bowl with the yogurt and milk.
3
Add the flour, cinnamon, honey, and eggs. Mix until your batter is smooth.
4
Heat the canola oil in a non-stick frying pan over medium heat and wipe it with a paper towel.
1 tsp Canola oil
5
For each pancake scoop one tablespoon of the batter into the pan. Bake 3-4 pancakes at a time. Turn the pancakes as soon as you see bubbles. Bake until golden brown. After each batch of pancakes wipe the pan with the oiled paper towel.
6
Serve the pancakes with applesauce and almonds.