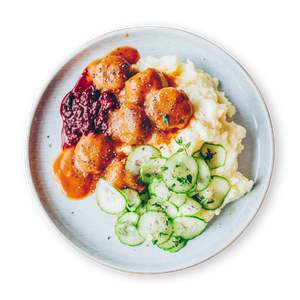 Juicy Meatballs with Mashed Potatoes and Cucumber Salad
A true classic of German cuisine! Juicy meatballs in a light sauce with mashed potatoes and cucumber salad seasoned with dill.
Recipe instructions:
1
Bring a pot of water to a boil. Peel and dice the potatoes into approx. ¾ in cubes. Add the potatoes to the pot and cook until tender.
2
Slice the cucumber thinly, finely chop the Slice the onion and add everything into a bowl.
3
Chop the dill and add into the bowl together with olive oil, vinegar, salt and honey. Mix well and set aside.
4
Melt the butter on medium heat. Stir in the flour and brown it for 1-2 minutes. Add the vegetable stock turn down the heat and let simmer for 5-10 minutes. Stir occasionally.
5
Season with soy sauce and pepper, bring to a boil for one last time and turn off the heat.
Soy sauce, light

Black pepper
6
In a bowl mix the minced meat, breadcrumbs, egg, and tomato paste. Season with salt and pepper and form meatballs out of the dough.
6.3 oz Ground beef

¼ cup Bread crumbs

1 Egg (~ 1.9 oz)

¾ tsp Tomato paste

Salt

Black pepper
7
Drain the potatoes. Add the milk and mash until creamy. Season with salt, pepper, and nutmeg. Cover with a lid to keep warm.
1⁄3 cup Low fat milk

Salt

Black pepper

¼ tsp Nutmeg, ground
8
Heat the canola oil in a non stick frying pan over medium heat. Add the meatballs into the pan and fry for approx. 6-8 minutes until golden brown.
1 tsp Canola oil
9
Serve the mashed potatoes with your cucumber salad, meatballs and sauce.